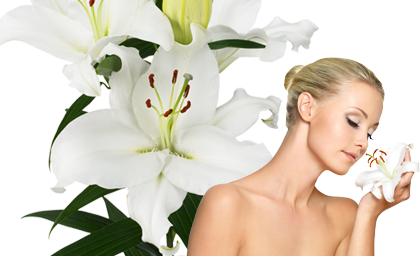 From bulb scale to a
high-quality end product
Around 75% of our bulbs are grown in the Netherlands.
The other 25% are grown on the southern hemisphere – New Zealand, here the growing season is climatically 26 weeks ahead. This makes it possible to produce flowers year-round
without  loss for quality.
The Bulb

Multiplying lilies is done by removing the scales from a bulb. Each cultivar is carefully tested on quality, may it be in a laboratory or visually. Thereafter are the scales planted outside by ourselves. One scale from a bulb produces 60 new bulbs. After two years the bulbs that grew from the scales are tested on bulb and leaf quality. After that they are judged, sorted and counted. The small new bulbs are planted outside; from spring till the end of the year are they growing in size to become a bigger bulb, were after they are tested on quality. After harvesting the bulbs are judged on quality and as usual sorted and counted. After all, a portion of the bulbs find their way to our customers, close by, or many thousands of kilometers away.
At Bianca Flowers we do most of the process ourselves, from working on the flowers to guiding the process. Also we grow a variety of our own cultivars. Just as our floriculture we prefer to provide our customers with an end product tailored to their wish. Because we do all of it ourselves we are able to provide material that fulfills the wishes of our clients. We have 75% of our bulbs production in the Netherlands The other 25 % we produce on the southern hemisphere – New Zealand, were the season is climatologically 26 weeks ahead. Using this method we are able to produce without any harm to the quality of our flowers.